Frequently asked questions
What is LEVER Running?
---
LEVER Running is a community of athletes that are pushing the boundaries of fitness. By spending less time on the injury sidelines, LEVER Running athletes are unlocking their true potential, setting records, and always Racing to WIN.
---
Why should I run with a LEVER Package?
---
LR Athletes use their LEVER Packages to: 1) Increase fitness by increasing weekly mileage 2) Recover post-injury 3) Work on speed and turnover 4) Stay healthy 5) Recover from hard workouts
---
How much bodyweight can I take off using the LEVER system?
---
Currently, the LV1 has a 45 pound maximum weight take-off limit.
---
What treadmills work best with the LEVER system?
---
See image. Treadmills with straight arms work best with the LEVER system today.
---
What is the LEVER LV1 Package?
---
The LV1 package is the first product from LEVER Running. It is a novel bodyweight support device that is designed for use with standard home and commercial treadmills. The LV1 system uses a tensioning cam system and elastic cord to reduce weight on its users.
---
How do you set up the LV1?
---
The LV1 takes about 2-3 minutes to assemble/disassemble. Please see our how-to video for more information on how to set up your LV1.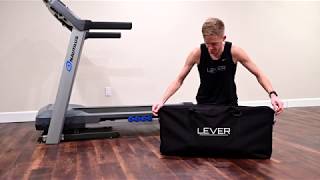 ---
---